Pineapples Only. But Dressed as Crabapples. With Hats That Look Like Mulligans.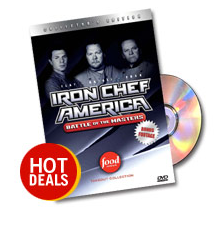 I am fragmented.
Go:
1. Because Google is eternally doused in strawberries and cream and wonder, Goog Co-op now offers
Customized Search Engines
. Google, even if you become a horrific giant of interweb domination, covered in soot and mucus and puppy shards, I will never stop loving you.
::144 Pineapples for infinite piles of über-logical nerdery.
2. I am very much into Gewürtztraminer. This makes me feel like I live in Weston and own a purebred golden retriever and half of the Pottery Barn catalog. But, as long as I still eat dry cereal in handfuls for dinner, I consider myself safe.
This weekend, Jason and I have a field trip planned to
Vinodivino
to pick
this shit
up. Wine Spectator gives it a 92. (thanks
sdt
.)
::190 Pineapples. With a mineral undertone.
3.
Tom
has managed to get me even more riled upabout Iron Chef. Just to let you all know, the Iron Chef Battle of the Masters
DVD set
is on sale for $24.95.
Battle for Supremacy
tees can also be had for 15 bucks. Worth it.
::16 Pineapples for continual reruns of Battle BigEye Tuna.
::Also, 18 pretentious crabapples to me for using two umlauts in one post. Also, I will freely admit that I just learned how to do that today, so it was kind of a rush. [And yes, this makes me an asshole.]
Happy Halloween! I hope your neighbors give out Butterfingers. Full-size.